PSCE Conference in Salzburg 
Public Safety Communications Europe (PSCE) held its latest conference in Salzburg, on May 11 & 12, 2022 in collaboration with the University of Salzburg and the great support of the Austrian Red Cross – Salzburg. The event namely featured:
5 different topics related to PPDR domain and covered by high-level speakers
Inspiring networking with sponsors, booth exhibitors and poster holders from industry, research and practitioners
Kick-off by the Governor of Salzburg Province
The social event was held at the the Hellbrunn Palace of the Orangery (Mirabell Gardens)
A demo with practitioners (police, firefighters, NGOs) with

helicopter, innovative vehicles and robots, and canine units, from different parts of Germany and Austria.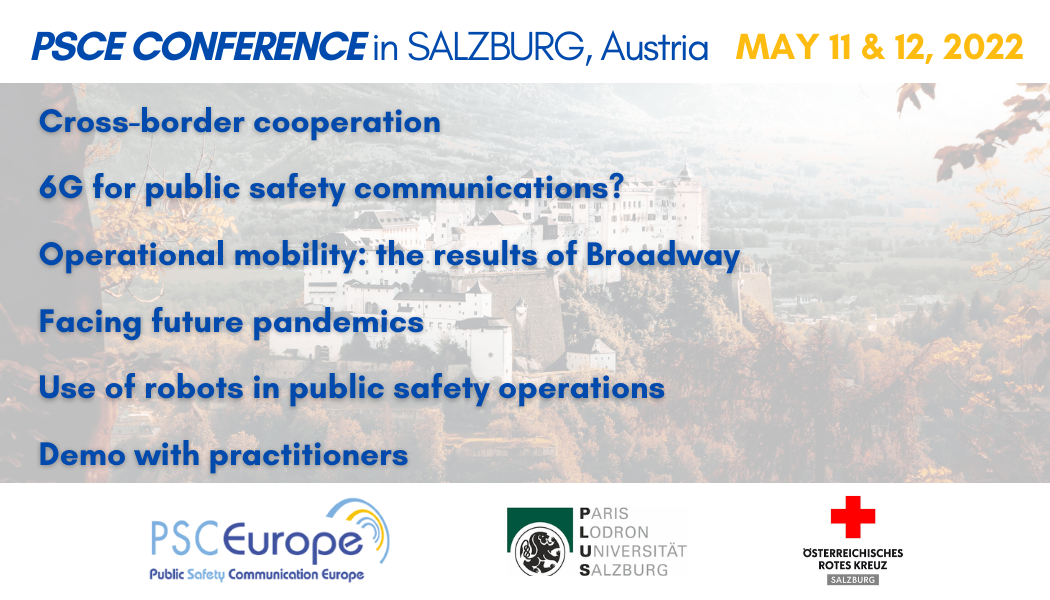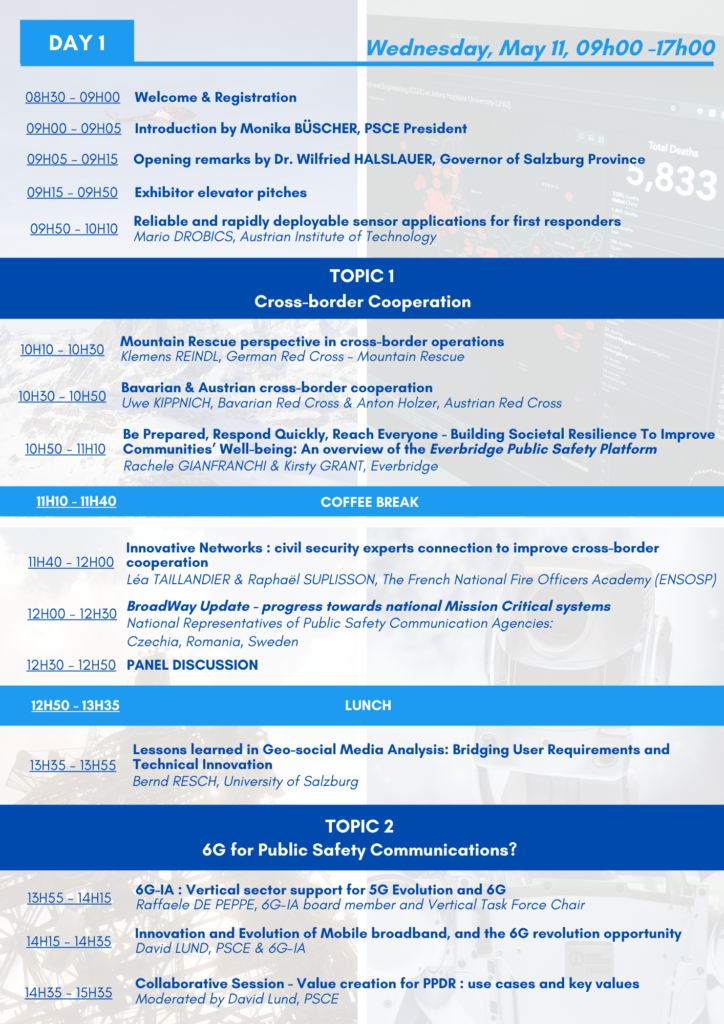 Conference rates (this includes coffee breaks, lunches and social diner):
Institutional members : 340€*
Non-members: 420€*
*+21 % VAT if you do not provide a valid VAT number.
—
After registering, please proceed to transfer the amount to:
PSCE AISBL
IBAN: BE60 3630 5830 0070
BIC: BBRUBEBB
VAT BE 0818.127.395
ING Belgium NV/SA – Bank
Avenue Marnix 24, B–1000 Brussels
PSCE has preferential pricing to make you benefit if you decide to stay overnight at the ARCOTEL Castellani hotel (in Salzburg city centre, near the conference venue).
To benefit from such preferential pricing, please use the following Reservations Form when booking your night(s) at ARCOTEL Castellani hotel.
PSCE is always happy to showcase results of EU-funded projects to all the stakeholders who attend its events (researchers, industries, practitioners, EU representatives).
If you want to to hold a poster and take the floor for a 5min elevator pitch, please contact us at secretariat@psc-europe.eu.
PSCE is always looking for partnerships, including sponsorship opportunities to contribute to the success of its events.
The sponsors will have the chance to be directly in contact with a large range of stakeholders: researchers, industries, practitioners, EU representatives, and to be included in all the official communications of PSCE, namely the Newsletters, Flash News, social media and website publications.
Please have a complete view on the sponsorship opportunities reading our Sponsorship Offer.
Here below you'll find an overview of the different Sponsoring Packages: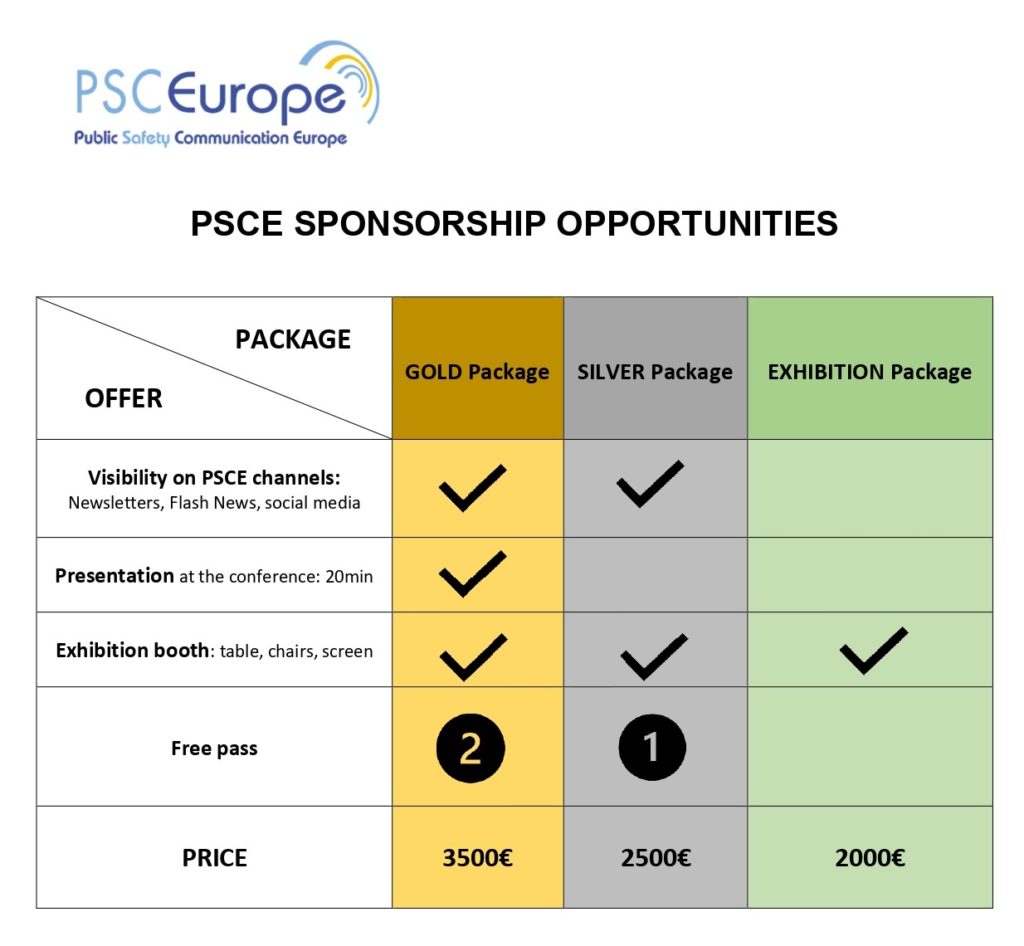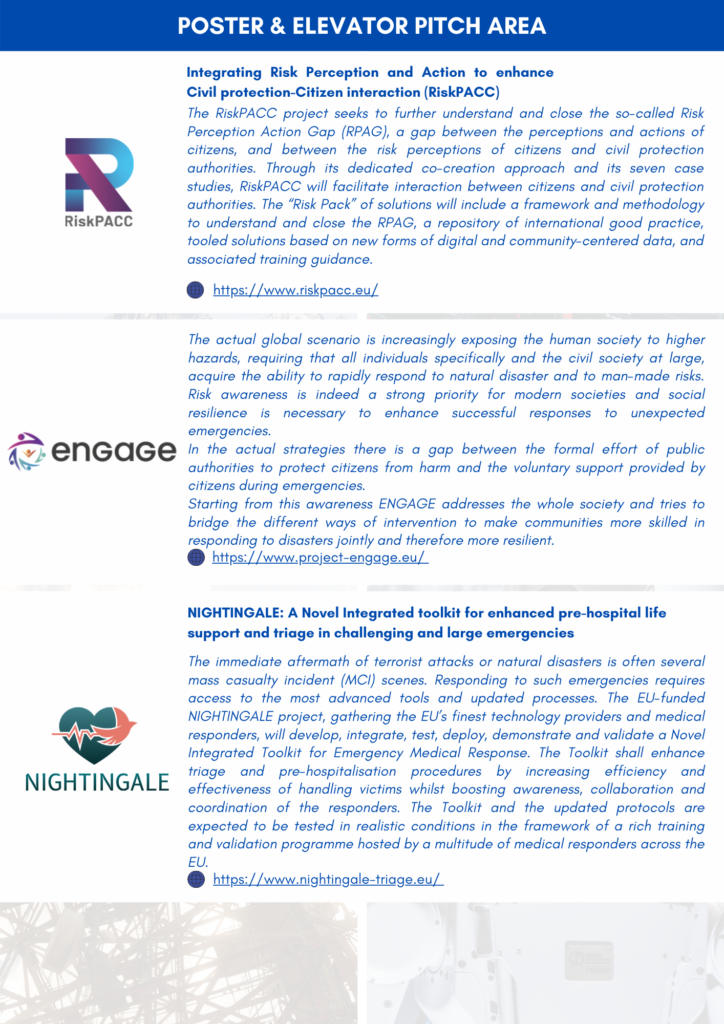 AIRBUS D&S helps to protect societies by offering effective solutions to blue-light Services. AIRBUS enables their customers to respond both day-to-day and in emergency situations, and allow secure operations and interoperability between organisations, sharing of high-value data on time.
With about 1,400 employees, the AIT Austrian Institute of Technology is Austria's largest non-university research institution and a highly specialised research and development partner for industry. At the Center for Digital Safety & Security, more than 200 experts work on key technologies of digitalisation in order to build energy-efficient, highly secure and reliable state-of-the-art information and communication technologies tailored to demand. The centre's research activities are based on strong ties with the European innovation system.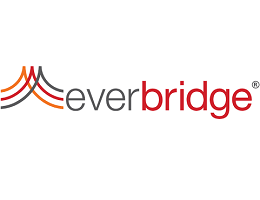 Everbridge is the most trusted and experienced global provider of Public Safety, Public Warning, Population Alerting, CAD, and Incident, Disaster and Crisis Management solutions.

The Austrian company Frequentis, headquartered in Vienna, is a global supplier of communication and information systems for control centres with safety-critical tasks. Such 'control centre solutions' are developed and marketed by Frequentis in the business sectors Air Traffic Management (civil and military air traffic control, air defence) and Public Safety & Transport (police, fire brigade, ambulance services, shipping, railways). 

Every day, our enterprise and public safety customers rely on effortless and reliable communications to keep business thriving and communities safe. They call it their lifeline. At Motorola Solutions, we not only build that lifeline – with mission-critical services, software, video and analytics, backed by secure, resilient land mobile radio communications – we advance it every day through our commitment to innovation. Our drive for continuous innovation and partnership with our customers enables them to be ready – in the day-to-day moments, and in the moments that matter most.