PSCE Winter Conference in Brussels
The PSCE Winter Conference 2022 was held in Brussels, in the premises of the Belgian Federal Police (Rue Royale 202 A, 1000 Bruxelles), on December 5 & 6, with a social event in the evening of the first day.
The agenda featured 5 topics:
1 – Space Applications for Public Safety
2 – Climate Change: Lessons learnt from the last disasters & gaps
3 – From BroadWay to BroadNet: towards the governance of a pan-European broadband mobile system for PPDR
4 – Technologies for first reponders
5 – Reinforcement of the protection of critical infrastructures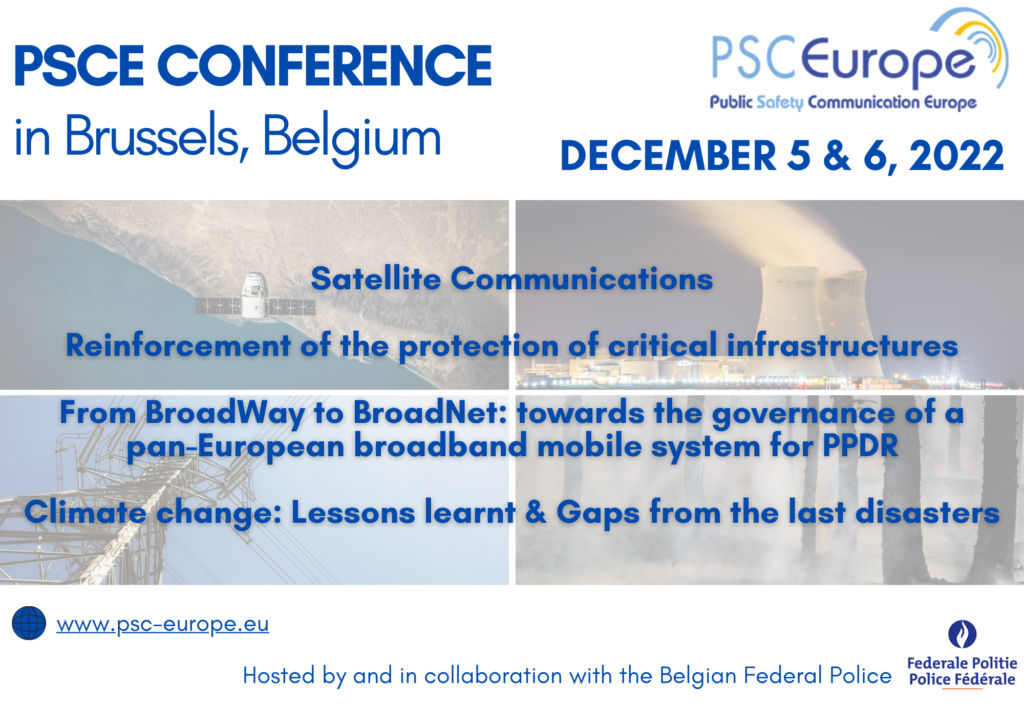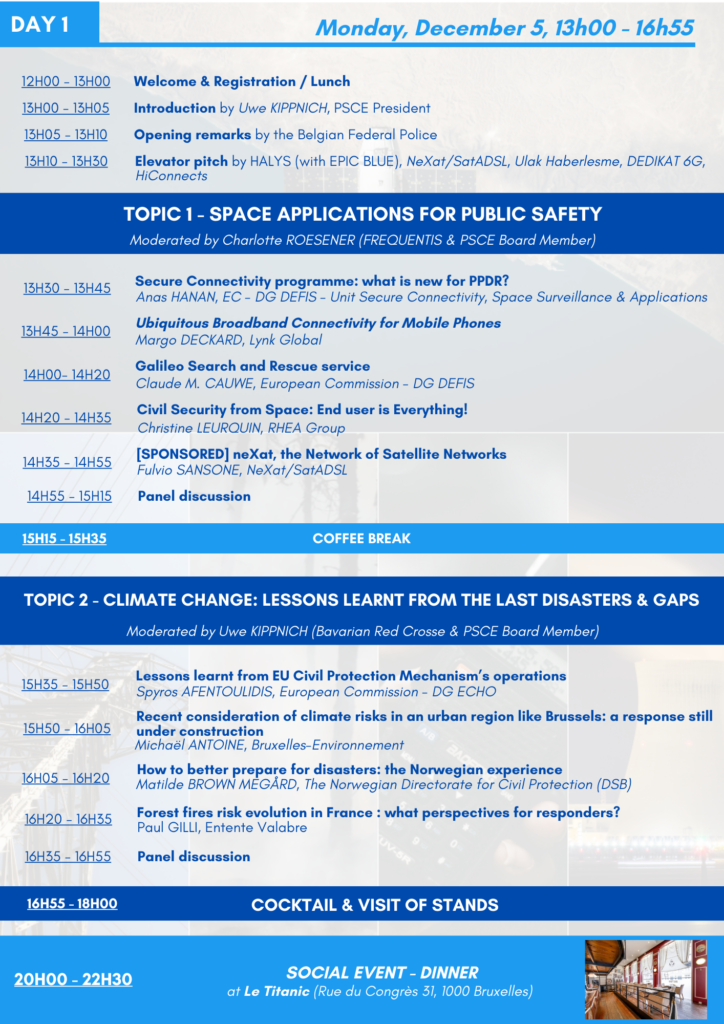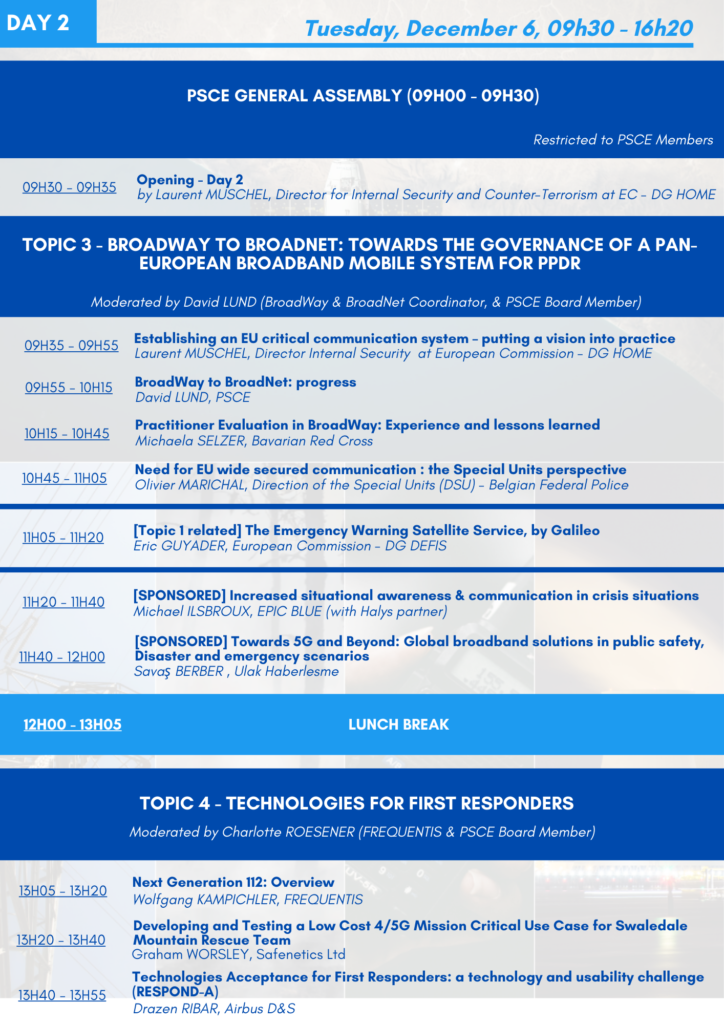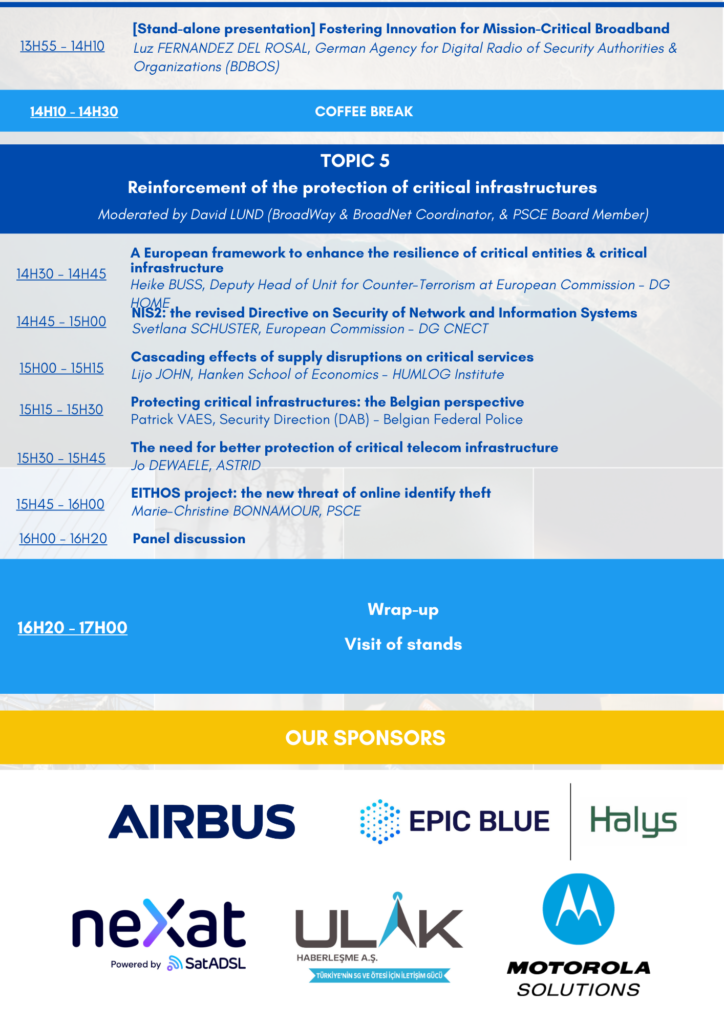 Conference rates (this includes coffee breaks, lunches and social diner):
Institutional members : 350€*
Non-members: 450€*
*+21% VAT, mandatory for all participants due to the conference being held in Brussels
—
After registering, please proceed to transfer the amount to:
PSCE AISBL
IBAN: BE60 3630 5830 0070
BIC: BBRUBEBB
VAT BE 0818.127.395
ING Belgium NV/SA – Bank
Avenue Marnix 24, B–1000 Brussels
PSCE is always happy to showcase results of EU-funded projects to all the stakeholders who attend its events (researchers, industries, practitioners, EU representatives).
If you want to to hold a poster and take the floor for a 5min elevator pitch, please contact us at secretariat@psc-europe.eu.
PSCE is always looking for partnerships, including sponsorship opportunities to contribute to the success of its events.
The sponsors will have the chance to be directly in contact with a large range of stakeholders: researchers, industries, practitioners, EU representatives, and to be included in all the official communications of PSCE, namely the Newsletters, Flash News, social media and website publications.
Please have a complete view on the sponsorship opportunities reading our Sponsorship Offer.
Here below you'll find an overview of the different Sponsoring Packages: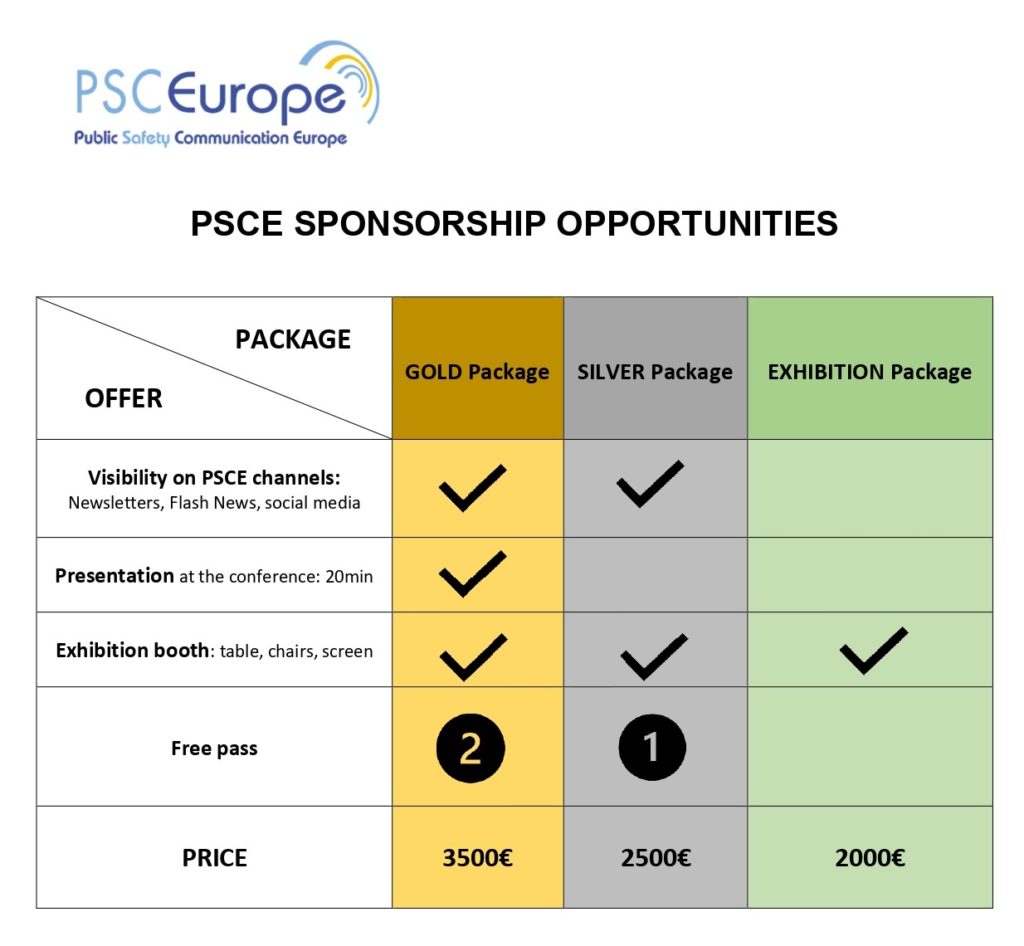 AIRBUS D&S helps to protect societies by offering effective solutions to blue-light Services. AIRBUS enables their customers to respond both day-to-day and in emergency situations, and allow secure operations and interoperability between organisations, sharing of high-value data on time.

Every day, our enterprise and public safety customers rely on effortless and reliable communications to keep business thriving and communities safe. They call it their lifeline. At Motorola Solutions, we not only build that lifeline – with mission-critical services, software, video and analytics, backed by secure, resilient land mobile radio communications – we advance it every day through our commitment to innovation. Our drive for continuous innovation and partnership with our customers enables them to be ready – in the day-to-day moments, and in the moments that matter most.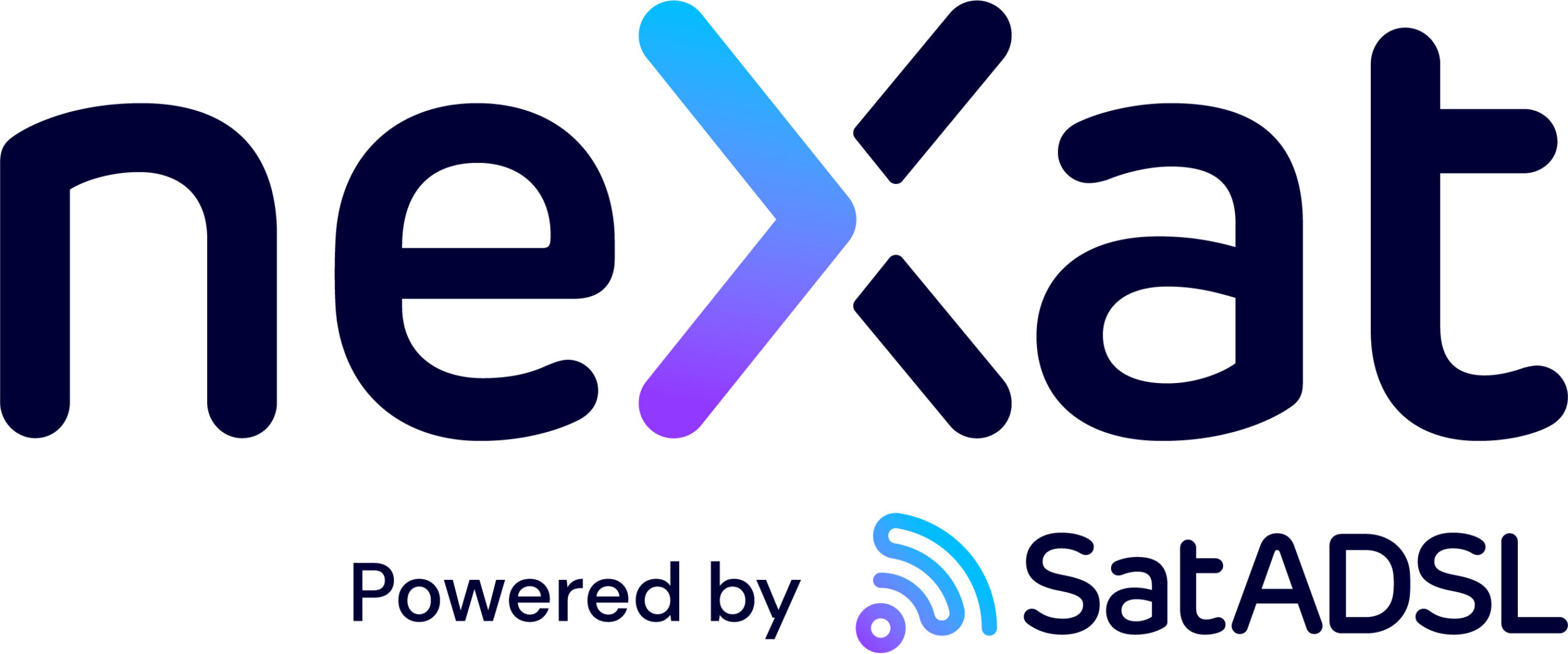 neXat, powered by SatADSL, is changing the way satellite connectivity business is done. Its disruptive flagship neXat platform, the world's first satellite aggregation system, acts as a capacity broker connecting teleports with new customers and markets. Through this model, neXat is creating a 'network of satellite Networks'. The neXat company was founded in 2011 and is an award-winning satellite service provider based in Brussels, Belgium, delivering innovative solutions worldwide to satellite operators, teleport & hub operators, government and enterprise bodies, and ISPs. neXat seamlessly offers a complete portfolio of reliable satellite services to its demanding high-end satellite service customers through a user-friendly eMarketplace. Visit www.nexat.be for more info and follow us @neXat_BE on Twitter and LinkedIn for regular news and updates.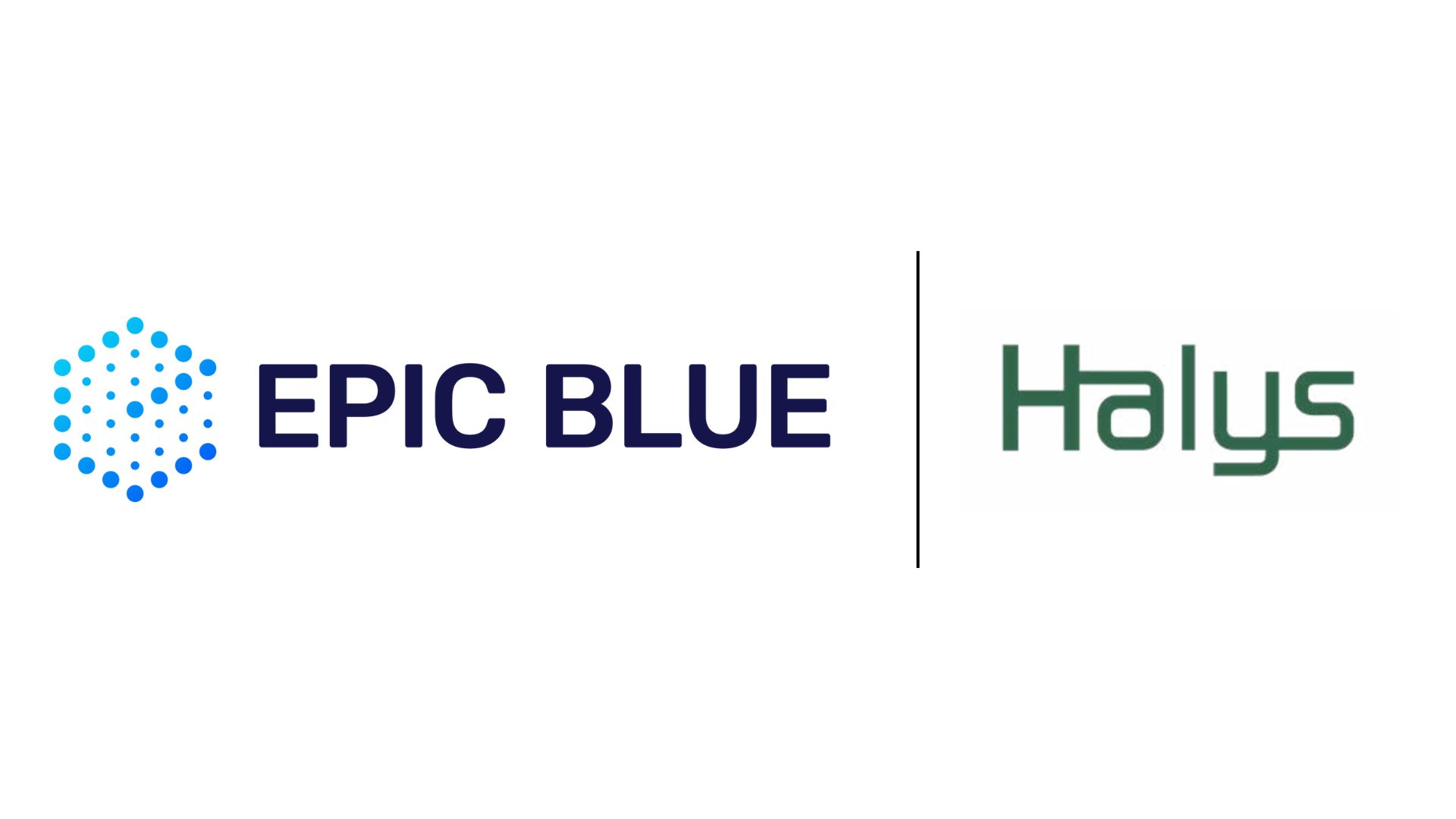 The Epic Blue Hyper Location technology lies at the heart of our solutions. It generates seamless real-time positioning information for people and assets and enriches intelligent sensors and IoT systems with location data. Driven by customer feedback, Epic Blue found industry-wide location capability gaps impacting safety and efficiency in the field. This discovery led to developing two complementary workforce solutions to address those gaps and substantially improve operations.
Halys is a french high technology company which provides innovative LTE/4G/5G network solutions. Also (i) a French registered telecom operator, (ii) a brand –  Executive Telecom -, (iii) a hosting company of operator services.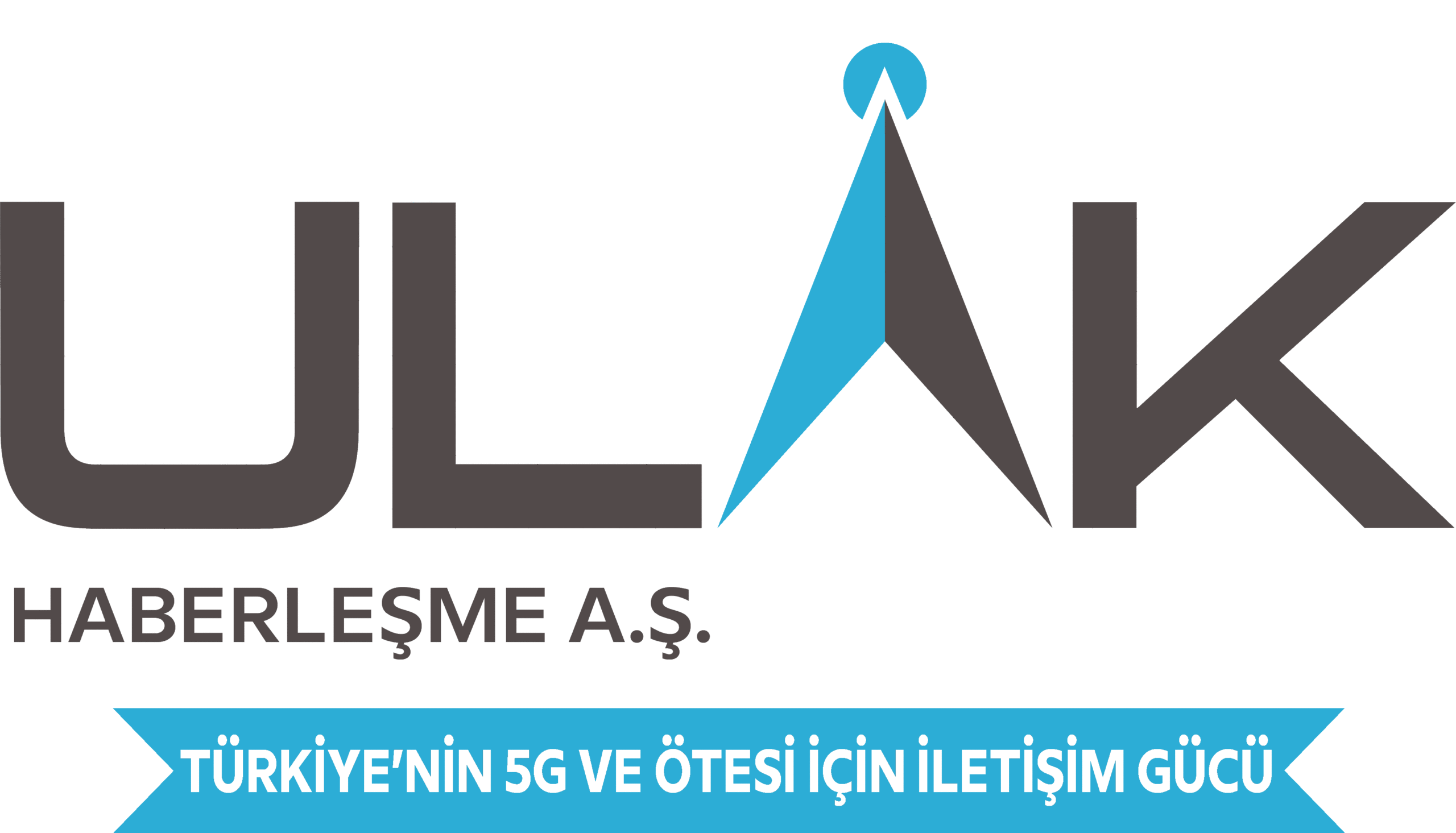 ULAK COMMUNICATIONS Inc. was established by SSTEK Defense Industry Technologies on April 20, 2017 to carry out R&D and engineering activities of mobile and broadband communication systems used by commercial network operators, to manufacture, test, install and integrate such systems and spare parts, to sell and to market, to import and export, to provide training, maintenance and support services. The company aims to be a global institution that will shape the future of communication technology solutions with its ecosystem by providing products and technologies for end-to-end, sustainable and reliable communication infrastructures to meet the increasing communication needs