PSCE conference in Lavrion, Greece
The upcoming PSCE conference will take place in Lavrion (near Athens) on 10 and 11 May 2023.
The conference topics are:
1 – Cybersecurity
2 – Future public safety communication challenges
3 – New technologies for Search and Rescue operations
Collaborative session: 6G public safety needs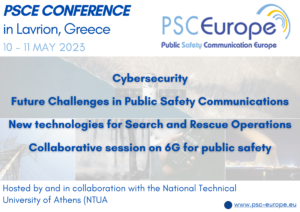 Conference rates (this includes coffee breaks, lunches and social diner):
Institutional members : 360€* VATexcl
Non-members: 460€* VATexcl
*Intra-Community VAT at 0% if number available / VAT exempted outside EU
After registering, please proceed to transfer the amount to:
PSCE AISBL
IBAN: BE60 3630 5830 0070
BIC: BBRUBEBB
VAT BE 0818.127.395
ING Belgium NV/SA – Bank
Avenue Marnix 24, B–1000 Brussels
PSCE is always happy to showcase results of EU-funded projects to all the stakeholders who attend its events (researchers, industries, practitioners, EU representatives).
If you want to to hold a poster and take the floor for a 5min elevator pitch, please contact us at secretariat@psc-europe.eu.
PSCE is always looking for partnerships, including sponsorship opportunities to contribute to the success of its events.
The sponsors will have the chance to be directly in contact with a large range of stakeholders: researchers, industries, practitioners, EU representatives, and to be included in all the official communications of PSCE, namely the Newsletters, Flash News, social media and website publications.
Please have a complete view on the sponsorship opportunities reading our Sponsorship Offer.
Here below you'll find an overview of the different Sponsoring Packages: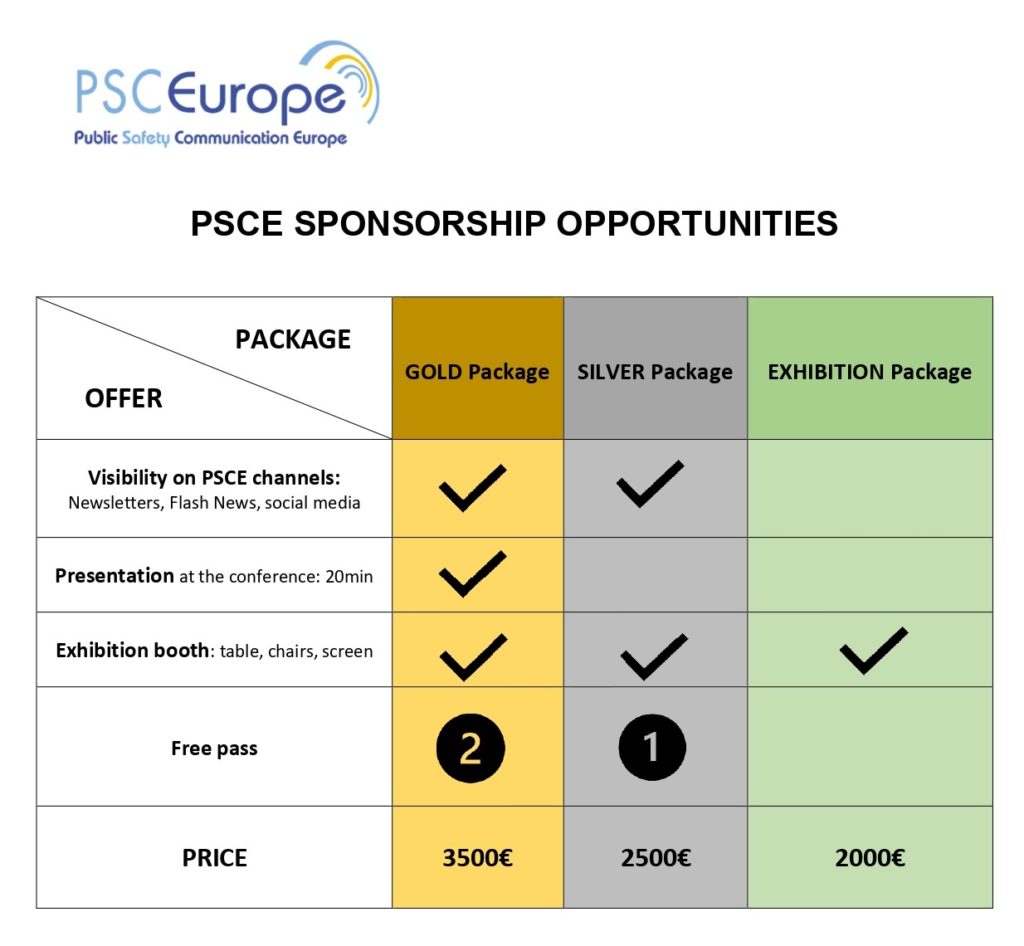 AIRBUS D&S helps to protect societies by offering effective solutions to blue-light Services. AIRBUS enables their customers to respond both day-to-day and in emergency situations, and allow secure operations and interoperability between organisations, sharing of high-value data on time.

Every day, our enterprise and public safety customers rely on effortless and reliable communications to keep business thriving and communities safe. They call it their lifeline. At Motorola Solutions, we not only build that lifeline – with mission-critical services, software, video and analytics, backed by secure, resilient land mobile radio communications – we advance it every day through our commitment to innovation. Our drive for continuous innovation and partnership with our customers enables them to be ready – in the day-to-day moments, and in the moments that matter most.